Teeth Whitening at Randwick Dental Clinic
Dark, dingy teeth aren't a good look. Tooth enamel is porous, so it's easy for stain particles to settle within the surface. Coffee, tea, red wine, curry, tomato pastes and other dark foods can make teeth stain more quickly if consumed frequently. Same for smoking.
Some people have teeth with naturally darker than others. While there is nothing wrong with this, it can make these individuals feel self-conscious about their smiles' appearance.
Environmental factors also play a role. People who take specific vitamins or swim in lap pools frequently are more likely to have superficial stain on their enamel.
Teeth change colour with time so you may notice your teeth become darker as you get older. Tooth whitening works best on this type of teeth.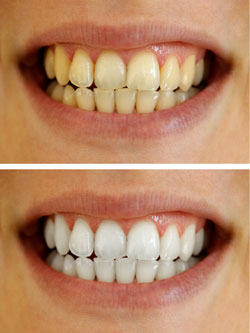 Brighten Your Smile Affordably
Our teeth whitening solutions can erase years of stains. Perhaps you're aiming to enhance the appearance of your smile or want a brighter foundation for other aesthetic treatments and it's a fantastic first step to take if you're unsure that a more intensive cosmetic solution is needed.
Teeth whitening offers fast solutions for events like job interviews, parties, graduations or weddings. It also makes a great gift!
Price Of Teeth Whitening
*At Home Teeth Whitening Kit $395
Normally $445, Save $50
Includes custom made upper and lower fitted trays
A supply of Pola Whitening Gel
*Zoom In-Office Teeth Whitening $925
Normally $975, Save $50!
90 minute appointment
Includes custom made upper and lower fitted trays
A supply of ZOOM take-home Whitening Gel
*Terms and conditions apply. Call our practice for details.
Qualifications for Teeth Whitening
Are you a candidate for teeth whitening? We will need to examine the health of your teeth and gums to make sure. An ideal patient will
Be free of cavities or gum disease
Have all of their adult teeth
Have no fillings or crowns towards the front of the mouth, as whitening does not change the colour of the dental materials in some cases there is a need to resurface or replace.
Getting the Most Out of Your Treatment
You'll want to do a few things to keep your teeth white for as long as possible.
With the right maintenance, your results can last for years!
During the 2 hours after using teeth whitening:
Reduce or drink through a straw any cold dark drinks.
Avoid dark tea, coffee, red wine.
Avoid all dark sauces like bolognese, soy sauce, etc.
No Smoking for 24 hours, smoking a cigarette within the first 24 Hours will stain your teeth.
Moderate use of electronic cigarettes is OK.
Avoid coloured mouthwash for 24 hours.
Ready To Whiten smile?
Book Your Teeth Whitening Appointment today. We are open late and are open Saturdays. Contact us!
Contact us today!

Teeth Whitening Randwick, Coogee, Maroubra, Clovelly, Kensington NSW | (02) 9314 5226