White Fillings at Randwick Dental Clinic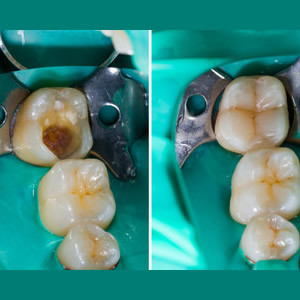 Cavities or cracks in your tooth enamel can leave you susceptible to aesthetic concerns, sensitivity, pain and additional fractures.
Fortunately, we're able to restore damaged teeth with composite and porcelain filling materials that match the natural colour of your affected teeth. Silver fillings are no longer necessary!
High Quality Fillings
Our tooth coloured fillings are made of the best materials in the industry and the world. Not only are they durable and aesthetically pleasing in colour, they can also help to reduce sensitivity in the tooth being treated.
What to Expect During Your Procedure
During your examination, we may need to take a radiograph to determine how deep the cavity extends into your tooth. Depending on what your immediate needs and concerns are, we can often treat the area of decay on the same day. Some cavities are small and superficial. We can place the filling without causing any sensitivity to the tooth whatsoever.
If the decay extends deeper into the enamel, we place numbing gel on the gums near it and then administer a small amount of local anaesthetic (which keeps the tooth numb for a couple of hours). The decay is removed and the filling placed, instantly repairing the tooth.
You can eat immediately after your appointment!
"Do I Need a Filling?"
Let us know if you're experiencing any of the following symptoms:
Broken tooth
Decay
Sensitivity
Pain when chewing
Rough edges on your teeth
Problems with floss or food catching between teeth
Want to Learn More?
Most tooth coloured fillings are covered by insurance and health funds, but we will provide you with a detailed treatment plan before starting any type of procedure.
At Randwick Dental Clinic, we do our best to provide minimally invasive tooth coloured fillings of the highest quality. We don't cut corners! Book your exam today.

Dental Fillings Randwick, Coogee, Maroubra, Clovelly, Kensington NSW | (02) 9314 5226