Dental Bridges at
Randwick Dental Clinic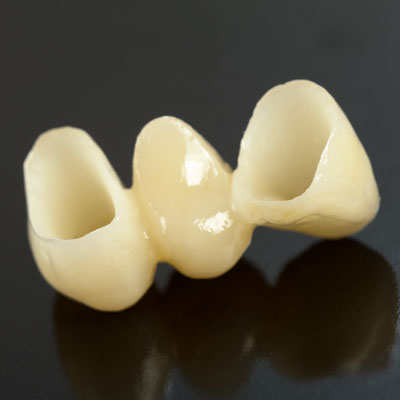 A dental bridge fills in the gap left behind by a missing tooth. Like crowns, they rest over the top of stable teeth on either side of the space, suspending an artificial tooth between them.
While most bridges are used to replace one or two teeth in lieu of wearing a removable partial denture, they can also be placed on top of pairs of dental implants for multi-tooth replacement.
Your new restoration will be made from a high-quality porcelain or ceramic material that blends naturally with the smile around it. Because we know both durability and aesthetics are a concern, we use all of the resources available to us to ensure the best possible outcome.
Getting a Dental Bridge Made
Before getting a bridge, we'll need to make sure the teeth beside it are healthy enough to support it. Provided they are, we then prepare them so that the bridge will fit over each one and then take a digital scan that is sent to our lab. About two weeks later, the permanent bridge is ready to place.
Bridges that are supported on dental implants may take more time to complete, as additional implant surgery is necessary.
Thanks to digital scanning, you can avoid the need to have an impression made of your mouth. The virtual data is more accurate and comfortable, improving the speed at which a high-quality restoration can be crafted by our partnering labs.
Dental Bridges Cost
The cost of the bridge depends on how many crowns are involved. A dental crown is a cap that fits over a tooth. A dental crown is usually $2,250.
If you have a Health Fund, you can contact them and learn in advance the rebate amount for the item number for the crown.
It would usually be the item number: 615.
If you are eligible to discounts and payment options, all HICAPS health funds are welcome, including Medicare Child Dental Benefits Scheme and Veterans' Affairs. If you have a gap or are without a health fund, you can apply for financing through DentiCare and Afterpay.
Our flexible office hours include evenings and Saturdays, making it convenient to work in your next treatment around an already busy schedule. Contact us today for an itemised treatment plan and detailed quote!
Caring for a Fixed Bridge
Although a bridge is not natural tooth structure, it's important to clean around yours daily to keep the supporting teeth stable. Otherwise, decay or gum disease can cause the tooth – and restoration – to weaken and fail.
In addition to brushing around your bridge, it's important to clean underneath with a floss threader or a tufted brush.
Want to Learn More?
Contact us today for more information on getting a dental bridge.

Dental Bridge Randwick, Coogee Maroubra, Clovelly, Kensington NSW | (02) 9314 5226