Implants at Randwick Dental Clinic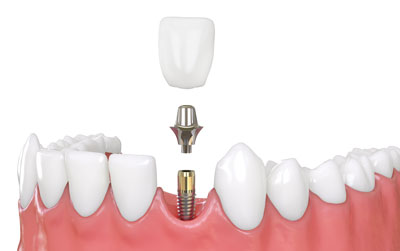 Replacing a tooth with a dental implant is currently the best option for most patients when a tooth is missing or when a tooth cannot be saved. Implants mimic the design and function of the tooth, as they attach directly to the bone the way a natural tooth would.
The second component of an implant is a porcelain or zirconia crown – or if multiple teeth are involved – a dental bridge. These are permanently attached onto the titanium implant.
Your new implant is just as strong, if not more so than a natural healthy tooth.
Phases of Dental Implants
Getting a dental implant usually takes about 1 to 3 visits, where the final crown is inserted during the last visit.
We will start with a CT scan to check the anatomy and to make sure that there is sufficient bone thickness present. On the subsequent visit the implant will be placed.
Within 3-4 months, the implant should become integrated within the bone and will be ready to receive the crown.
In order for the implant placement procedure to be as comfortable and successful as possible, it is important that the patient has no pre-existing gum conditions and is a non-smoker.
Comfortable Sedation
For the implant placement procedure, only regular local anaesthetic is required, however sedation is also available.
In order to ensure extra comfort and eliminate any stress or anxiety related to the procedure, nitrous oxide (happy gas) can be administered. Although numbing with a local anaesthetic is sufficient, some of our patients prefer to further relax and tune out with our sedation option.
Like natural teeth, your dental implants require daily maintenance to keep them healthy and stable. We recommend brushing and flossing your implants the same as you would your other teeth, along with scheduling a routine check and clean at least every six months.
There are certain factors that can impact the cost of a dental implant, however the average cost for one implant is $6,500 which includes the implant placement ($3,300) and the crown placement ($3,200).
Some Health Funds will give an immediate rebate for dental implants through a HICAPS machine used in our dental practice.
Health Fund items are 688, 661, 672.
We offer flexible payment options, such as direct health fund rebate, as well as financing options through Denticare and Afterpay. Thanks to our clear cost estimates, you'll know exactly what fees are involved before you agree to treatment.
Book a Complimentary Implant Consultation Now
Book a Complimentary Free First Implant Consultation Now (radiographs not included).
Any invasive or surgical procedure may carry risks. Before moving forward, it is recommended that you seek a second opinion from an appropriately licensed medical professional.

Dental Implants Randwick, Coogee, Maroubra, Clovelly, Kensington NSW | (02) 9314 5226