Dental Sedation at
Randwick Dental Clinic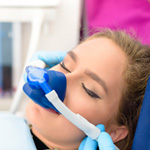 Does going to the dentist make you feel anxious? Would you prefer to relax through your next appointment as best as possible? We offer inhalation (nitrous oxide) sedation upon request. Thanks to such resources, our patients are able to complete lengthier and more complex treatments in fewer appointments.
Nitrous Oxide ("Laughing Gas")
Most people are familiar with nitrous oxide, which is an inhaled sedative breathed in through a soft nosepiece during your dental procedure. The safe and light sedation effects allow you to remain fully conscious but with a reduced sense of anxiety or pain.
Having laughing gas during your appointment is safe, easy and quick. It takes only a few minutes to provide full effectiveness and can be quickly reversed once treatment is completed. In fact, there are no lingering side-effects, so it's completely safe to drive yourself home afterward.
Sedation Option for Your Comfort
Is sedation right for you? Consider asking us if you're a candidate. We may recommend a sedative if you:
Require oral surgery, such as a wisdom tooth extraction or dental implant
Feel nervous about getting dental treatment
Want to complete multiple procedures in one appointment
Prefer to relax as best as possible
Sedation cost
Inhalation sedation (nitrous oxide/laughing gas) at $80/30 minutes.
If you have a Health Fund, the item is 943.
Contact us today to get started. We're open late!

Sedation Dentistry Randwick, Coogee, Maroubra, Clovelly, Kensington NSW | (02) 9314 5226