Get a Custom Sport Mouthguard at
Randwick Dental Clinic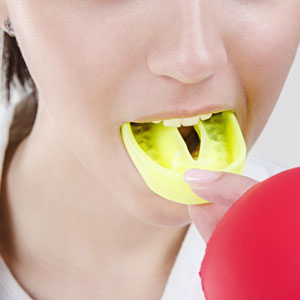 Who knew that wearing a custom fitted mouthguard could be such a fundamental piece of protective athletic equipment? Having Randwick Dental Clinic make a detailed mouthguard to wear during sporting activities could significantly reduce your risk of common dental emergencies like:
Having a tooth knocked out
Concussions
Broken teeth
Lip lacerations
Secondary trauma
The Difference in Design
Store-bought mouthguards unfortunately don't provide the same level of protection for your teeth as custom guards. Their looser, "boil and bite" designs are more challenging to talk and hydrate with, and prone to falling out during the game.
A custom mouthguard fits your unique smile like a glove. As it rests snugly around your teeth, you won't have to worry about it feeling loose or bulky. Should an injury occur, your mouthguard is designed to stay in place (protecting you against secondary trauma) instead of falling out.
Sport Mouthguard Cost
The price for a sports mouthguard is $385.
If you have a Health Fund, you can contact them and learn in advance the rebate amount for the item number for the sport mouthguard.
The item number is 151.
We do offer discounts. Click here to find out if you're eligible.
We offer flexible payment options. On the spot direct rebate is available using HICAPS Health Fund insurance, and offer financing through Denticare and Afterpay. Thanks to our clear estimates, you'll know exactly what fees are involved before you ever agree to treatment.
Bite Splints for Bruxism
Do you have a habit of grinding and clenching your teeth at night? You may have noticed headaches the next morning or that your teeth are starting to look flatter across the edges. Chronic bruxism is likely to blame. Left untreated, bruxism can also lead to complications with your jaw joint (TMJ) or chronic headaches/migraines.
Wearing a small splint while you sleep keeps your teeth slightly separated, preventing you from engaging your jaw joint and wearing the enamel against itself. Although your teeth are extremely strong, they can't withstand chronic wear and overuse from each other.
Book a Consultation to Get Started
Think you need a mouthguard? Schedule a quick consultation with one of our family dentists. We can take a digital scan of your teeth and have a custom bite splint ready within the next week or two (no gooey impressions are necessary)!

Custom Mouthguards Randwick, Coogee Maroubra, Clovelly, Kensington NSW | (02) 9314 5226